Celebrate your birthday at Flash Pointe Dance. Come join our staff and dance to any song or theme of your choice in one of our state of the art dance studios.
Your group of friends will receive a 75 minute class where they will learn a routine to the song of your choice. Then invite the parents back for a live performance.
We will set up tables and chairs for your group to enjoy your birthday treats and open gifts.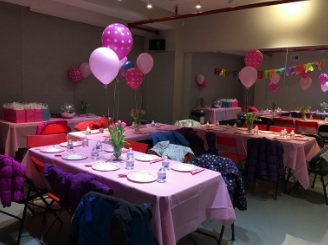 Birthday Package Includes
Dance instruction with the choreographer of your choice
Use of our state of the art studio, sound system, and party lights for instruction
Party room time for refreshments and gifts Assistance with set up and clean up
Pricing $275.00
1 hour 30 minute package for 12 dancers
1 hour with your choreographer and assistants as needed
$275.00 paid, non-refundable deposit at time of booking
$15.00 each additional guest Payment for additional guests day of party
Final count submitted 3 days prior to party
Set up and clean up assistance Tables and chairs
What you need to provide
Refreshments, paper products, tablecloths, candles and matches
Decorations
Please do not bring in red drinks or sprinkles.  These items are very damaging to the facility and will not be allowed.